This documentary recounts the story of Newport, County Mayo in a new and exciting way. From its origins as the old port of Burrishoole a few miles west of the present town, the film follows the lives and times of a host of characters who played significant roles in the development of the new port.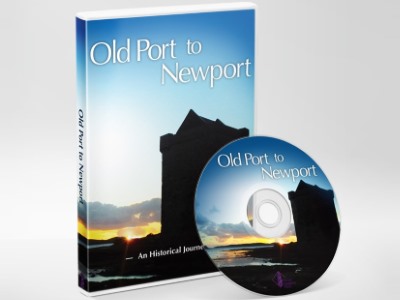 DVD available in 2 formats:
EU/Australia (PAL format)
US/Canada (NTSC).
DVD price €25
Post & Packaging €5
Also available in Mayo shops:
Newport: Post Office
Westport: Seamus Duffy's Bookshop
Castlebar: Castlebar Book Shop, Henry McGlade's Music Store
If you would like a public showing in your area
Old Port to Newport, An Historical Journey
Have you ever driven, cycled or walked through a small  town and wondered how it got there? Who laid the first building stone? Who developed those old warehouses? Who built that great house that overlooks the river?
This documentary will answer these questions and more. It takes you on a journey through time and space and engages you in the lives of the people who built this town. It recounts the story of Newport, Co. Mayo, from its origin as the old port of Burrishoole, a few miles west of the present town and explores a number of themes such as
The early Christian anchorites through to the arrival of the Dominican order and the construction of St. Mary's Friary at Burrishoole
The advent of the Norman families, especially the DeBurgo
The development of the town of Newport by Captain Pratt and the Medlicottes
The Year of the French, 1798
The famine
The success of Martin Carey as a business man
The arrival of the light railway from Westport to Achill
The War of Independence
The subsequent Civil War
The documentary ends as the town emerges into the late 1930's
This documentary was researched, written and filmed by Purple Foxglove Films, a partnership of film maker Tommy Hughes and historian Joe McDermott both from from Newport. It has a running time of over one hour.